Session at the ALT Online Winter Conference 2019
December 11, 2019 @ 1:00 pm

-

1:45 pm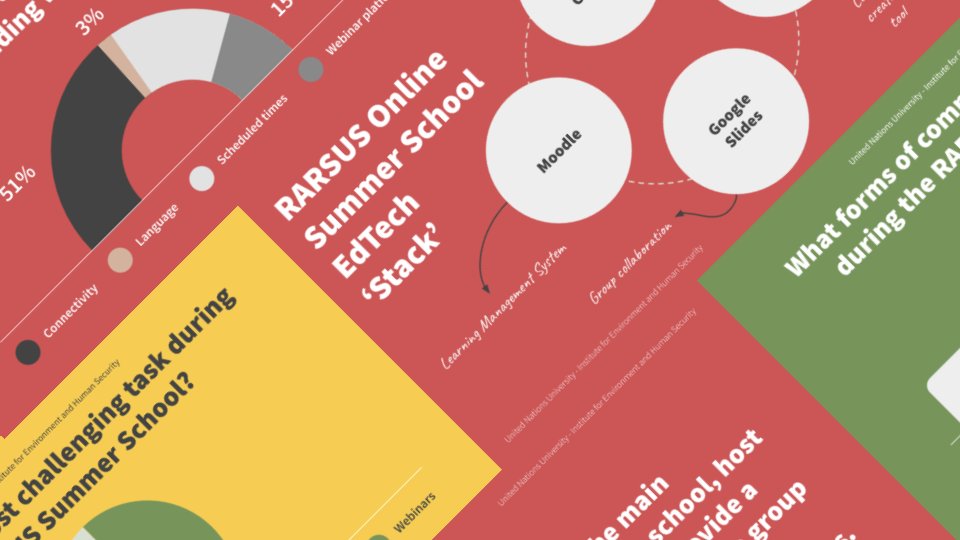 This session will share experiences from a recent online summer school, designed and coordinated by the Pan African Cooperation and Educational Technologies (PACET) section at the United Nations University Institute for Environment and Human Security (UNU-EHS). The 2 week event was studied by postgraduate students located in Germany and Sub-Saharan Africa (Niger, Mali and Algeria), with input and supervision from experts in water and energy management at higher education institutions, internal/external project partners and other UN organisations.
Due to the challenges presented by local infrastructures, the importance of clear pedagogical design, communication and the adaptability of chosen technologies was central to the event's success. Furthermore, a schedule of live webinars, interactive online modules, group work/presentations, reflective writing and peer review made for a highly ambitious programme; both in its delivery and for students who participated.
The tweetchat will focus on some of these activities, sharing how they were structured to form a coherent study programme, whilst also facilitating a dialogue amongst the ALT community about how online delivery can be achieved despite challenging circumstances. Of particular interest will be the exploration of issues less common in 'Global North' distance education, or where access to suitable devices/internet connectivity might be a barrier to engagement. Anonymised student feedback will also form part of this discussion.
The event was the final activity of a larger project that aims to establish long-standing research-based cooperation between German and African partners in the area of sustainable resource supply management in urban and semi-urban regions.
The proposed hashtag for this session will be #OnlineEduAfrica.
Session at the ALT Online Winter Conference 2019