RARSUS Online Summer School
October 7, 2019

-

October 18, 2019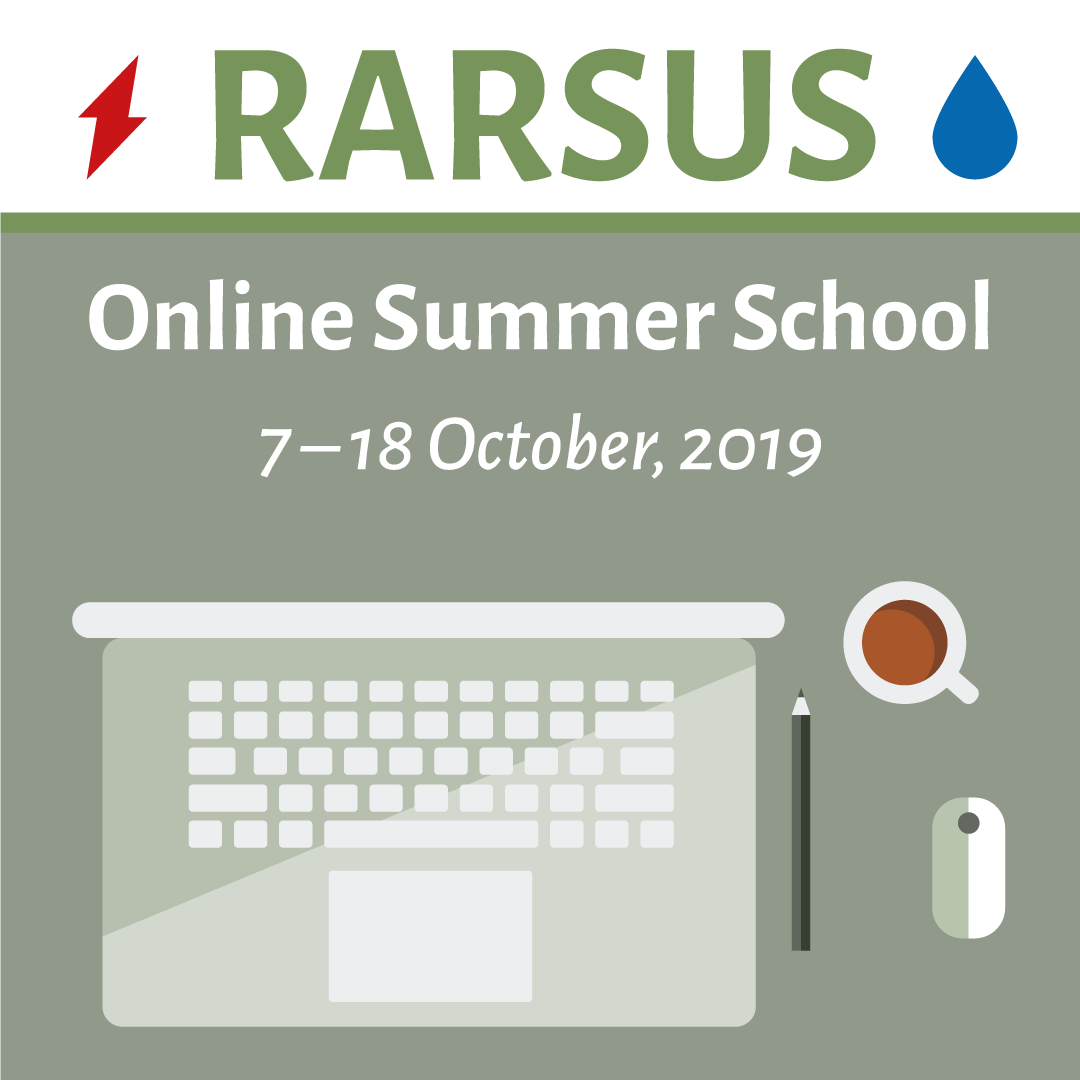 The RARSUS Online Summer School is a two week event that pulls together the expertise and contribution of all project partners and external partners of the consortium. Applications for the summer school are open to qualified Master students (or PhD students) in fields related to water and energy management, who are currently enrolled at partner universities.
The Summer School begins with an introductory webinar featuring a welcome note from one of the project leads and a short presentation about the general concepts and the importance of resource supply for sustainable urban development, followed by a Q&A with the speakers. During the following two weeks, participants engage in the topics of the summer school with individual e-learning courses as well as webinars offered by experts from the water and energy sectors.
All registered students take part in the summer school through participation in the e-learning and webinar sessions. Participants are encouraged to support their learning through reading, reflection, and writing. At the end, they are expected to undertake two forms of assessments: writing an individual article or project idea and conducting group work with a presentation at the end. Details of both assessment formats are presented at a later stage.
Introductory Webinar
The summer school will kick off with an introductory webinar featuring a welcome talk and a short presentation about the background and the concept. Starting right after the webinar, a discussion forum will be open to participants, where they can ask questions related to the courses and share their experience. Limited tutoring will be provided by content experts in the second day within the time frame of their module. However, the forum will stay open even after that, allowing participants to keep on discussing the topics.
E-Learning
After the webinar, participants will improve their specialized knowledge through six self-paced e-courses. Two courses will be the same for all students, while the other four are targeting participants with a water or energy background or related disciplines. The e-courses are self-paced and consist of video lectures, interactive lessons, external resources, and exercises.
E-learning Module 1: Risk and Vulnerability – Theory and Assessment
E-learning Module 2: Resilience & Climate Change in African Cities
E-learning Module 3: Climate-resilient Energy Supply Infrastructure
E-learning Module 4: Water, Energy and Food Interactions in Urban Contexts
E-learning Module 5: Hydrology-based Approaches for Developing and Operating Infrastructure for Water Management in Urban Settings
E-learning Module 6: Spatial Planning in the Context of Urban Water Management
All students wishing to take part in the 2019 online summer school must successfully complete the e-learning by the end of the two weeks.
Webinar / E-Lecture Series
A series of webinars will be offered to participants. These learning activities will provide additional scientific knowledge and understanding on sustainable resource supply in urban and semi-urban areas with a special focus in water and energy supply.
Application
Find out more details and how to apply here: RARSUS Summer School
Deadline for applications is the 15 September 2019.
RARSUS Online Summer School